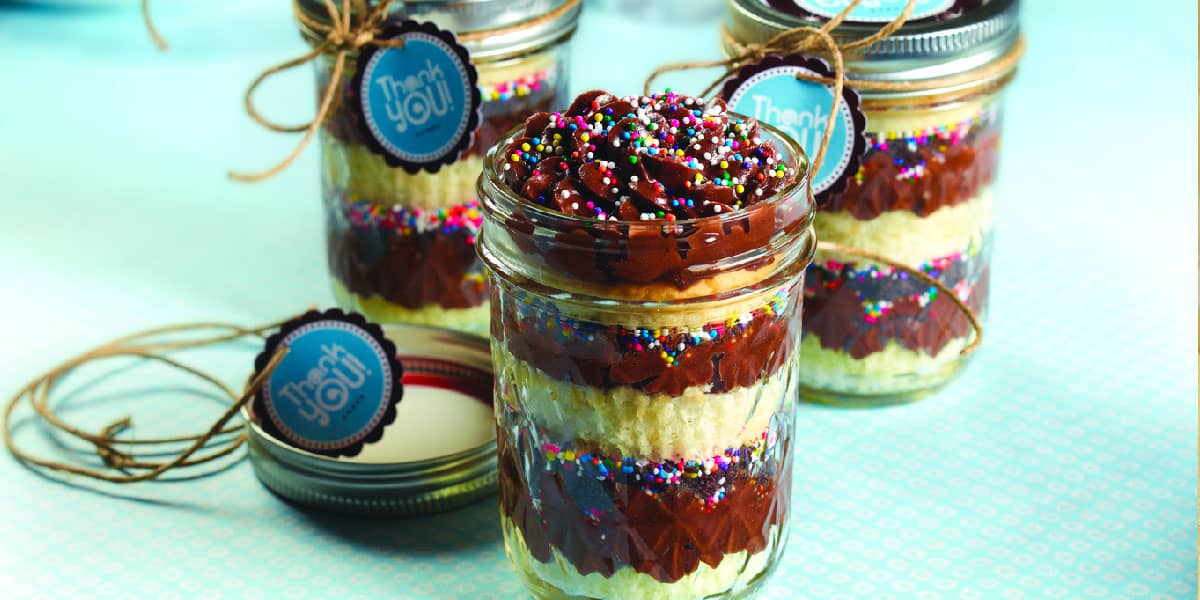 1 box of white cake mix
1 

1

/

3

cup water,

1

/

3

cup vegetable oil
Standard muffin pans
Over the Top baking cups
1 Mason jar for each cupcake
2 tubs Over the Top Chocolate Buttercream Icing
Over the Top Decorate It Starter Kit (We used decorating bag, coupler and collar.)
Over the Top Even More Decorating Tips (We used large star tip #32.)
Over the Top sprinkles in six-cell jars or choice of confections such as jimmies, edible confetti or non-pareils
Prepare cupcakes according to package directions.
Let cool completely.
Cut first cupcake horizontally into three even pieces.
Place first cut cupcake piece in bottom of jar.
Fit decorating bag with coupler, collar and large star tip #32, and fill bag with icing. Pipe icing on top of cupcake in a circular motion.
Sprinkle your choice of confections on top of icing, especially around edges. Be sure confections are touching the glass.
Sprinkle a second confection on top of the first.
Place middle section of cupcake on top of icing and pipe a second icing layer. Repeat layering of confections.
Place top of cupcake on last layer. Pipe icing on top in circular motion.
Finish with non-pareils.