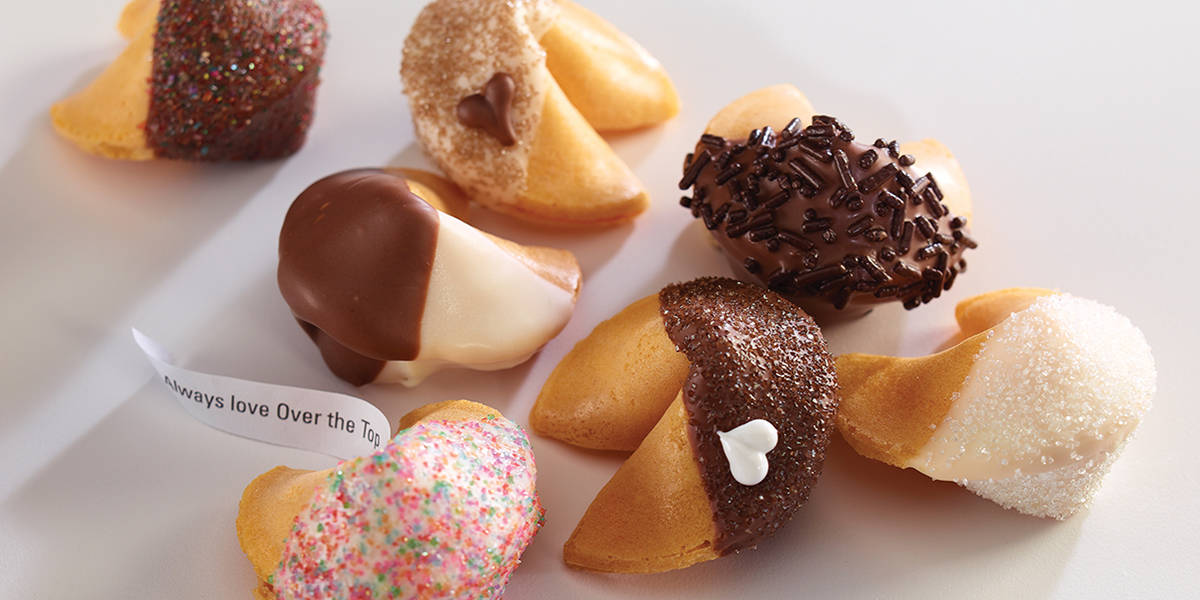 Restaurant or store bought fortune cookies
Microwave safe bowl
1 tub Over the Top White Buttercream Icing
1 tub Over the Top Chocolate Buttercream Icing
1 tube Over the Top Wispy White Write-On Gel
Over the Top Sanding Sugars in your favorite colors
Small dipping bowls
Waxed paper
Spoon Over the Top Chocolate Buttercream Icing into microwave safe bowl. Heat in microwave for 10 second intervals, stirring until icing has consistency of syrup. If needed, add a little water to thin icing.
Dip fortune cookie into melted icing. Hold cookie over icing bowl to eliminate excess icing.
Before icing dries, dip cookie into bowl of sanding sugar. Place cookie on waxed paper to set.
To create a heart: use Wispy White Write-On Gel to pipe a small dot. Draw it toward you to create a point. It will resemble an upside-down teardrop.
Pipe a second upside-down teardrop next to the first, connecting the points to make a heart.
Create different cookies by repeating steps 2-5 using icing and other sanding sugars.