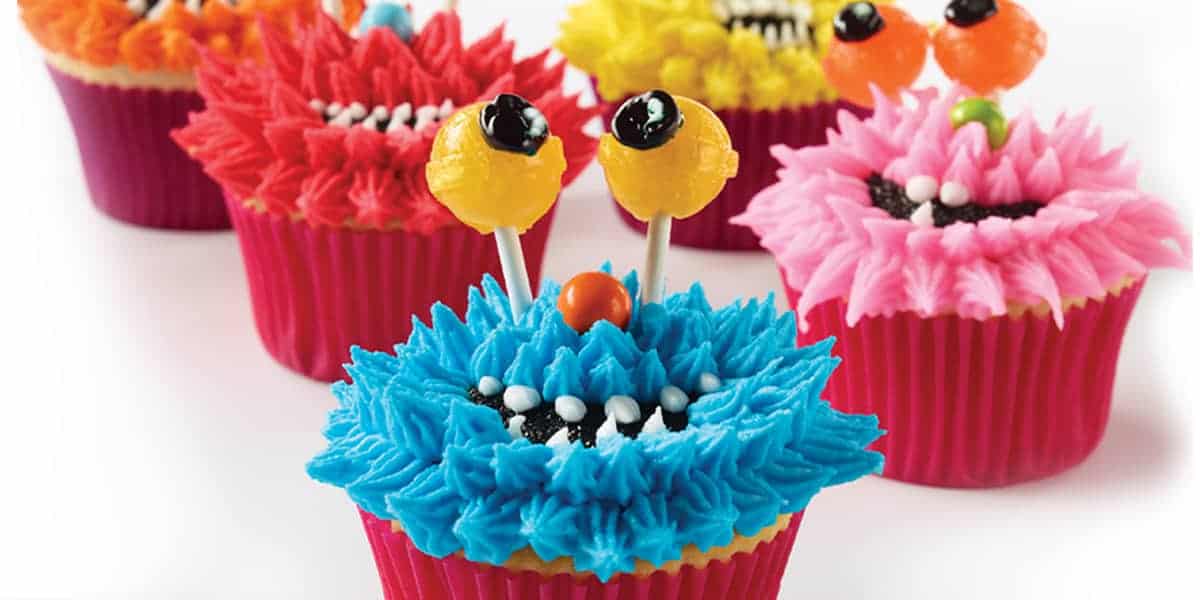 1 box of yellow cake mix
3 large eggs
1 1/4 cup water
1/3 cup vegetable oil
1 package Perky Pink Baking Cups
2 tubs Wispy White Buttercream Icing
1 Over The Top Party Primary and Shocking Neon Food Coloring Gels
Over the Top Even More Decorating Tips, Small Star tip (#19)
Over the Top Keep Decorating Refill Bags
1 tube each Over the Top Really Black and Wispy White Write-On Gel
Over the Top Sixlets in various colors
Round lollipops for eyes
Prepare cupcakes according to package directions. Let cool completely. Pour Really Black sanding sugar onto a small plate.
DECORATING MONSTERS:
1) Using Really Black Write-On Gel, pipe a smile on lower half of cupcake.
2) Immediately dip the black gel smile into Really Black Sanding Sugar.
3) Using Wispy White Write-On Gel, pipe small teardrops for the teeth. Pipe teeth on both top and bottom edge of mouth.
MONSTER'S FUR: Divide Wispy White Buttercream Icing into small mixing bowls. Tint with color gels to achieve desired colors.
Put colored icing into a disposable decorating bag fitted with a coupler and  Small Star tip (#19).
4) Begin piping small star spikes around outer edge of cupcake pulling the star tip towards the outside edge. Make a complete circle.
5) Pipe a second row, layering the spikes just inside the first row, pulling the star tip out towards the edge again. Keep piping around the mouth moving towards the center of the cupcake.
6) Working toward the center, begin pulling star spikes at an upward angle, then straight up in the center.
7) Stick two small lollipops just above the mouth for his eyes.
8) Use the Really Black Write-On Gel to pipe pupils for the monster's eyes.
9) Pipe two white teardrops on top of the black pupils.
10) Gently place a red Sixlet for the monster's nose.