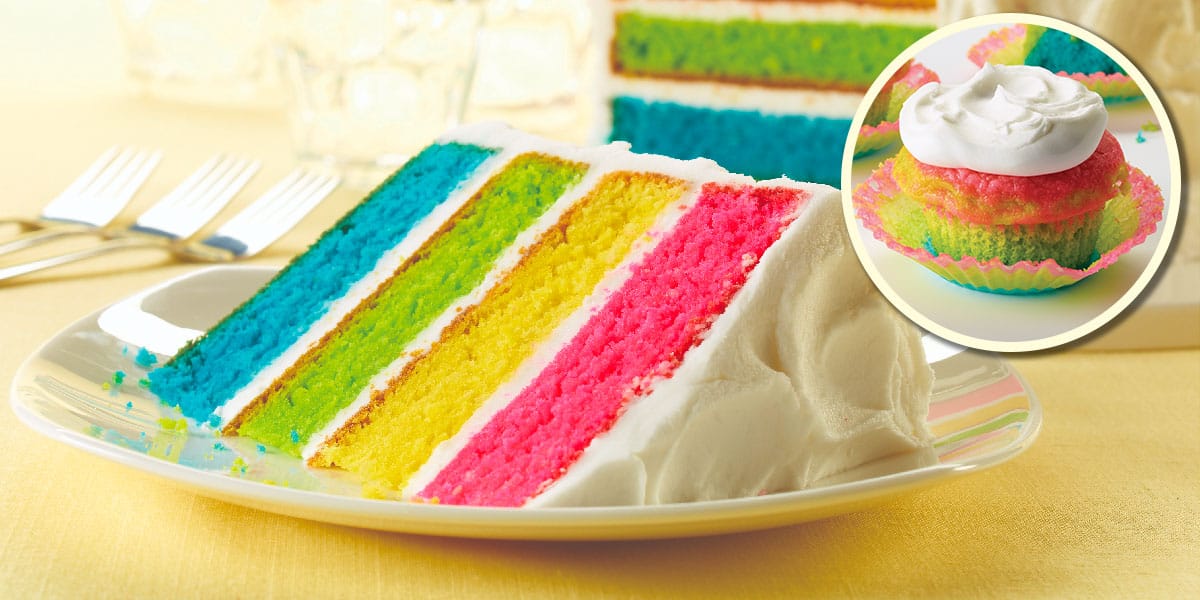 1 box of white cake mix
1 

1

/

3

cup water,

1

/

3

cup vegetable oil
2 8-inch round cake pans
Parchment paper
Baking sheet
Mixing bowls (one for each color choice)
Cake plate
3 tubs Over the Top Wispy White Buttercream Icing
Shocking Neon Concentrated Color Gels (We used pink, blue, and green.)
Over the Top icing spatula
Prepare cake batter according to package directions.
LAYER CAKE
Divide batter into four separate bowls. Choose four color gels, one for each bowl. Add one drop of gel and mix well.
Continue to add drops of gel until desired shade. Pour one bowl of colored batter into first cake pan; pour second bowl of colored batter into second pan. Refrigerate remaining batter in bowls. Bake cakes for 25-30 minutes or until a toothpick inserted comes out clean.
When finished, invert cake pans onto parchment-lined baking sheet. Inverting the layers will help flatten the top of the cakes. Let cool for 10 minutes, then lift pans off cakes. Clean pans and repeat process for the second set of cakes. If needed, trim tops of cakes to level with a serrated knife.
Add 1 tsp of water to one cup of white buttercream icing to thin. Whip icing by hand until smooth and fluffy. Place first layer right side up onto cake plate. Spread a generous

1

/

3

cup of icing onto first layer. Place the next cake layer upside down on the first layer, tops together. Spread another generous

1

/

3

cup icing on second layer.
Repeat with each colored layer. Finishing with top layer.
Spread thinned icing onto top layer letting it fall a little over the edge.
Create soft waves by swirling icing on top of cake with back of spoon.
Add a generous amount of icing to your spatula holding spatula vertically, spread icing on sides of cake.
Create waves on the sides by using the back of spoon.
CUPCAKES
Prepare cake batter according to Rainbow Cake recipe.
Place 1 tablespoon of colored batter into the bottom of cupcake liner.
Allow batter to spread evenly.
Repeat with other colored batters.
Bake about 12 minutes or until a toothpick comes out clean.
Cool completely and decorate as desired.