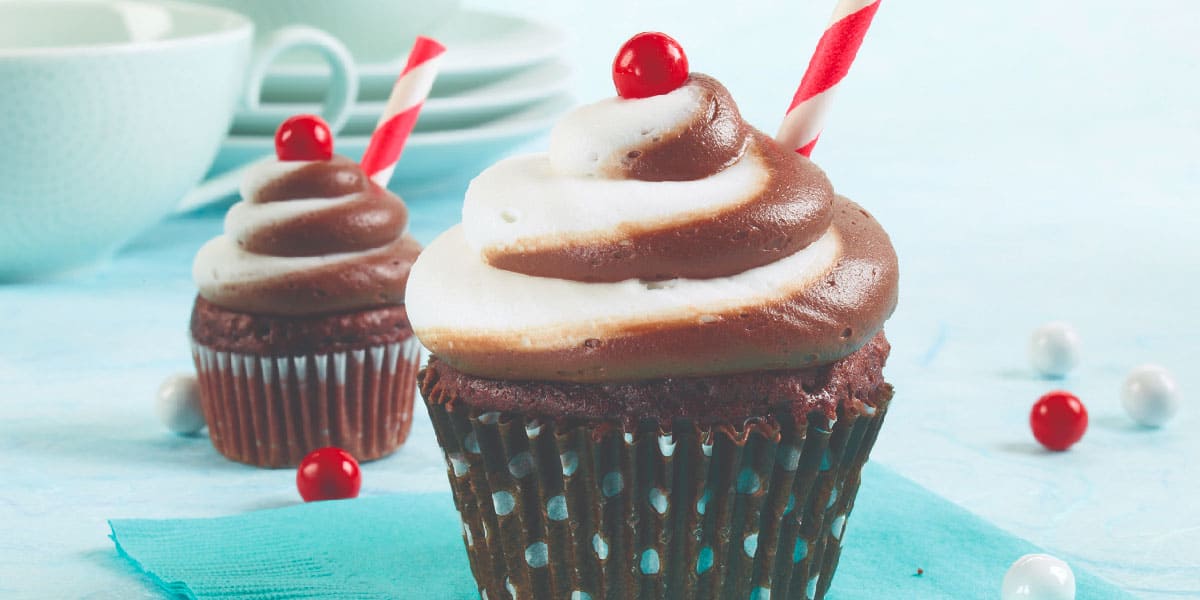 Sweet Shoppe Twist Cupcakes
1 box of chocolate cake mix
3 large eggs, 1 

1

/

4

cup water,

1

/

3

cup vegetable oil
Standard muffin pan
Over the Top designer party baking cups
Mixing bowls for each icing color
1 tub Over the Top white buttercream icing
1 tub Over the Top chocolate buttercream icing
Over the Top decorate it starter kit (We used coupler, collar and decorating bag.)
Over the Top sugar beads (We used red.)
Striped decorative straws
Prepare cupcakes according to package directions. Let cool completely.
To prepare icing: scoop full tub of each icing into individual bowls. Add

1

/

2

tsp water to each. Whip each icing mixture by hand until smooth and fluffy.
To prepare decorating bag: trim

1

/

4

inch off tip of decorating bag. Insert coupler in bag with threads down. From outside of bag, screw collar onto coupler.
Fill decorating bag with half white buttercream icing and half chocolate buttercream icing so that the icings are side-by-side in the bag.
Holding decorating bag vertically, start piping from outer edge of cupcake (at 12 o'clock position). Squeeze bag with constant pressure as you pipe around edge of cupcake.
Continue piping in a spiral motion toward the center, creating another layer of icing.
Finish spiral in center. Release pressure and pull decorating bag straight up.
Immediately place sugar bead on top of icing before it dries.
Cut a decorative straw into 2 

1

/

2

-inch-long pieces.
Push straw into cupcake at a slight angle.